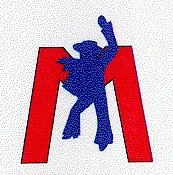 MOBJACK NATIONAL CHAMPIONSHIP REGATTA
See the Daily Press Article for a description of the action
Final Results (skipper and total points):
1. Trey Smith 12.25; 1998 National Champion
2. Rob Whittemore 14.75;
3. Case Whittemore 19;
4. Jim Rice 30.75;
5. Mark Arnold 39;
6. Rowland Marshall 41;
7. John Gardner 42;
8. Merle Rice 43;
9. Len Guenther 45;
9. Joe Kubinec 45.
11. Hank Strother 48;
12. Dave Rowland 52;
13. Gordon Edwards 65;
14. Tim McConville 69;
15. Mark Matthews 79;
15. Tom Roberts 79;
17. Blackwell Nottingham 80;
18. Cheryl Desvernine 88;
19. Tom Ward Jr. 90;
20. Sam Jackson 91.
21. Rodney Evans 92;
22. Al Williamson 109;
23. Scott Farquharson 116.

Also awarded were the following:
The "Senior National Champion Award" to Rowland Marshall as the skipper with the best finish who is 63 years of age or older at the start of the National Championship Regatta.
The "Ulmer Award" to Blackwell Nottingham as the member participating in his first Nationals as a skipper who finishes highest in the regatta but does not receive a position award.
The "Family Award" to Len and Heidi Guenther, the qualifying skipper who finished highest in the regatta with at least one crew member from another generation of their family aboard, but does not receive a
position award, Ulmer Award or youth award.
The "Top Woman Skipper Award" to Cheryl Desvernine, the female skipper finishing highest in the National Championship Regatta.
The "Mobjack Systems Award" to Joe and Tracy Kubinec, the husband-wife team regardless of which is skipper and crew who had the best finish among husband-wife teams.
The "Long Haul Award" to Al Williamson and Tim Moody who trailed their boat the longest distance in order to participate in the Nationals.
The "Fleet Award" to Fleet 3, Potomac River Sailing Association, the fleet (other than the host fleet) which had the largest number of boats participating in the Nationals.
The "Anchor Award" to Al Williamson, the skipper who had the largest number of total points of all skippers completing every race. In the tradition of this award the winner is to maintain the trophy for the following year and add one piece of memorabilia or otherwise make improvements to enhance the trophy.
And for the first time, the "Steve McDonough Memorial Trophy" to Mark Arnold for sportsmanship,
best supporting and promoting the Mobjack Class and involving his family in the class and event as voted by
his peers during the regatta.
Congratulations to Broad Bay Sailing Association, Fleet 10 and especially Debbie and Mark Arnold, Norah and Dave Rowland and Len and Barb Guenther, for organizing a great regatta and event.
As you can see there was lots of serious racing and lots of fun.
Thanks also to regatta sponsors:
Days Inn - Marina,
Fisherman's Wharf Restaurant,
Janitrol Heating and Air Conditioning
Mobjack Bay Brewing Company.
Mobjack Bay Pale Ale was the official ale of the event and the Mobjack Class